Mississippi Officials Find 80-90% Oysters Dead
"We've lost this season," oyster dredger Loe Nguyen said.

Nguyen said he's also a shrimper, but that shrimping season hasn't been good, either, since the oil spill.

He said he had a negative feeling about the upcoming oyster season when DMR officials dredged for oysters and pulled up catches with about 80 to 90 percent of the oysters dead. . .

Scott Gordon, director of the DMR shellfish bureau, said there have been more oyster mortalities this year, but he doesn't know whether it can be attributed to the BP oil spill.

"We don't have any evidence that oil has contributed to these mortalities," he said.
Here is what the old style of Oysters Rockefeller looked like, a favorite dish in the high-end restaurants frequented by the elite families of America up and down the East Coast:
In fact the dish was named for the Rockefeller family. The Rockefellers are investors in BP, along with the Queen of England, Queen Beatrix of the Netherlands and many other elite families, so now they bring you version two of Oysters Rockefeller, only instead of being topped with spinach and braised in a rich butter sauce, the oysters are dead, rotting, and covered in oil: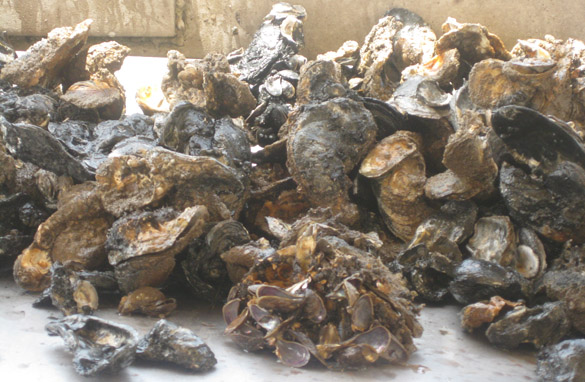 But Scott Gordon, head of the shellfish bureau, "has no evidence" that the unprecedented oyster kill was caused by BP's oil. Hello, idiot? But don't cry for the Rockefellers -- they like all the elites have their own private stocks of all their favorite foods. And it will actually benefit them -- the few live oysters found clean will skyrocket in price at restaurants, meaning that even fewer of us little people will get to try the delicacy named after the grand old family. The elites love exclusivity.